De Volkskrant: "Violinist Monica Germino can..."
Violinist Monica Germino can play again, despite hearing problems, thanks to quiet pieces written especially for her
The American-Dutch violinist Monica Germino, known for her electronically amplified performances of music by contemporary composers, is given the worst conceivable news three years ago: she has to stop making music or take drastic measures to protect her hearing.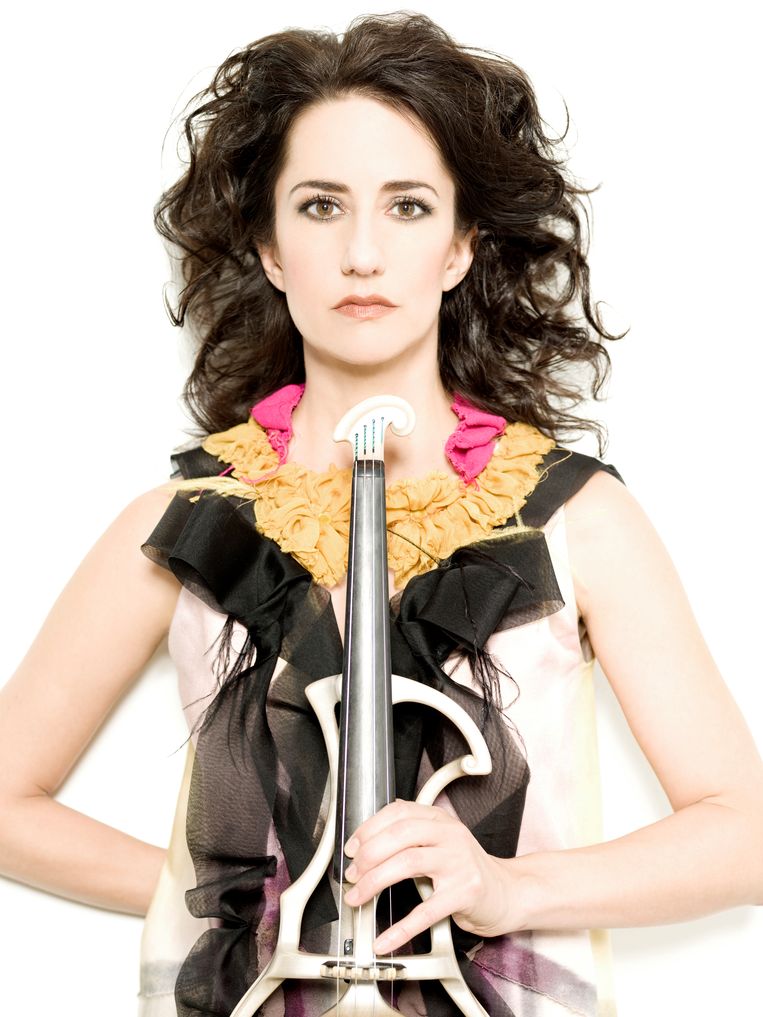 She has known for a long time that she is 'sensitive to sound,' which means that sound enters her ears at a higher level than it would to others hearing the exact same sound. That is why her ears are more prone to damage. The loudest violinist in the country can now only play very softly.
'It's like a runner who hears that if he keeps running at high speeds, he is likely to have knee injuries in the future. He can still do a fast walk,' says Germino. '80 decibels is my fast walk.'
Quite a blow for someone who cherishes volume. Even her acoustic violin is too loud. Germino's first reaction is to stop everything. 'I didn't want to have the violin next to my ears.'  She arranges replacements for her projects and concerts. She can hardly talk about her condition with others. 'Playing the violin is my identity. What was I supposed to say now? Hi, I'm Monica and I'm ...'
She also calls Michael Gordon, the world-famous American composer, to cancel a project. 'Then everything changed. For Michael, stopping was not an option. He said, "I am going to write you a very soft piece. And I want to be the first to do this for you."
Two colleagues from the New York collective Bang on a Can, Julia Wolfe and David Lang, join forces. They have been working with the theme of silence for some time; for example, Lang wrote a 'whisper opera.' Wolfe had written a piece for Germino before. The Dutch composer Louis Andriessen, who composed several pieces for Germino, is asked to be artistic leader. The result, MUTED, will premiere tomorrow at the Oranjewoud Festival. Germino can play again. 'The composers saved me,' says the violinist.
Two historical 'frame violins' are featured in MUTED. A frame violin is a violin without a sound box. Just like an electric violin, but acoustic and unamplified. A violin without a sound box is extremely quiet. Such an instrument is usually used to practice (to spare the neighbors). The renowned industrial designer Marcel Wanders, former amateur violinist, has also built a spectacular whisperviolin with luthier Bas Maas. Instead of the traditional scroll found on normal violins, the whisperviolin has a finger, as if to say: shhh. 
But the music in MUTED is not necessarily extremely soft. 'It is also about the perception of sound, and about contrast. For example, I can start out playing with a sourdine, a mute, on the violin. When I take it off the audience suddenly experiences the music as loud, but it is really not loud at all. Sound works just like light, you adapt to it.' 
Can't you just play with earplugs, other musicians sometimes ask. Germino has tried it for a year before she finally quit her orchestral job at the end of the '90s, already diagnosed with sound sensitivity. 'I never got used to it. Earplugs are deadening. They take away too many of the subtle details, such as the sound of bow hair gliding across a string. '
Many colleagues did not understand why she quit her job. Hearing damage is a sensitive issue for (classical) musicians, almost a taboo. Those who play in a Wagner opera in an orchestra pit are exposed to sound levels around 130 decibels. Germino: 'When I left the orchestra, a colleague said: "Well, aren't we all deaf?'
However Germino is not deaf, perhaps to the contrary. By playing softer, her experience of music has changed. 'I am now much more aware of sound. It sounds ironic, but I now hear a hundred times as much as before.'
Muted. 7 (try-out), 8 (premiere) and 9/6 2018, Oranjewoud Festival. Next season (international) tour.
WHISPERVIOLIN, FRAME VIOLIN, SOURDINE
The whisperviolin, made for Monica Germino by designer Marcel Wanders together with luthier Bas Maas, is a violin that produces fewer decibels than the normal, acoustic violin. It is inspired by the seventeenth-century 'pocket violin:' a violin with a narrower sound box, then used by dance masters.
She also plays two frame violins: violins without a sound box, only the 'ribs.' These instruments were made out of the leftover wood from making violins. The sound is softer and rich in overtones, which are higher tones that vibrate sympathetically with the sounding tone.
An ordinary violin can also be made to sound softer when using a sourdine, also known as a mute. This is a clip made of wood, plastic, metal or leather, which is placed on the bridge, limiting or altering the vibrations. Germino now has a collection of hundreds of sourdines.
NRC: Red Sofa, pop-up artist, & quiet playing
NRC Handelsblad
21 March, 2018.  Excerpts translated from Dutch
Red Sofa celebrates 10 years, opens festival with Monica Germino's quiet violin (excerpts)
Adventurous violinist Monica Germino enthusiastic about Red Sofa's new music program in Rotterdam's De Doelen
                      Read complete article here (in Dutch) 
-by Joep Stapel       
Contemporary music has a reputation for being difficult. The tired cliche of dry, impenetrable music played to empty halls still exists. But De Doelen in Rotterdam is overthrowing the stereotype with a lively and accessible new music series. It's called Red Sofa, and celebrates its tenth anniversary this week with the six-day Spring Loaded festival. A film concert, a bicycle ride to secret concert venues, a 'pop-up artist,' world premieres, and of course the red three-seater sofa as the center for informal talks before and after the concerts. "I put everything into this festival that makes Red Sofa into Red Sofa," says Programme Director Neil Wallace.
The pop-up artist is the adventurous violinist Monica Germino. She will open the festival and perform a number of interventions. Germino is a fervent admirer of the Red Sofa series: "Neil Wallace has achieved something you also see in modern art museums: people aren't apprehensive, they're curious and open to new discoveries."
The Red Sofa formula revolves around this curiosity, says Wallace (1953). "We have built a community of interested people who are not afraid of new notes. I'm probably the only new music programmer in the Netherlands who has no worries about what I present – people will come anyway."
As the pop-up artist, Monica Germino will decide what she will actually play in the moment. It will certainly be soft, because a few years ago Germino was diagnosed as 'sensitive to sound,' which means that her ears are more prone to damage [from high decibel levels]. She had to say goodbye to the high-octane soundtracks and louder works for electric violin, giving up many pieces she had often performed.
She is now "more curious than sad," says Germino. Playing quietly opens up a whole new dimension; and apart from a reflection on silence and listening it can also be "an antidote to the relentless noise of our world." She has amassed a huge collection of mutes (sourdines) and plays a rare 'frame violin' from ca. 1870, an instrument without a sound box which therefore plays at a very low volume. Germino: "Neil wants me to play the frame violin in the Main Hall without any amplification; for me that's a thrill, an adventure." Wallace: "You will hear a pin drop."
Spring Loaded Festival: 10 years of Red Sofa. 21-26 / 3 De Doelen Rotterdam. Inl . www.dedoelen.nl
Photo: Marco Borggreve